HELP SAVE THE MOUNTAIN GORILLAS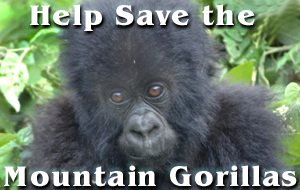 Africa's mountain gorilla (Gorilla beringei beringei) one of man's closest relatives, is in peril. In recent years, their plight has become more precarious due to poaching, political instability and deforestation. In September of 2007, the World Conservation Union - the world's most respected authority on the plight of Earth's plants and animals – moved the mountain gorillas from its Red List of Endangered Species from the endangered list to the critically endangered list. They are one of the world's rarest animals, with only about 800 remaining in the wild. About 480 gorillas live in the Virunga Volcanoes Massif, which combines Rwanda's Volcanoes National Park, DR Congo's Virunga National park and Uganda's Mgahinga national park. About 320 gorillas live in Bwindi's Impenetrable National Park in Uganda. They aren't found anywhere else on the planet; they are not found in zoos as luckily, they cannot survive in captivity.
Help LCA Reach Our Current 2015 Fundraising Goal of $26,000!
LCA's current campaign is aimed at raising the remaining $26,000.00 ($29,000 of $55,000 goal raised so far as of January 31, 2014) to buy and ship updated radio equipment to the Ugandan Wildlife Authority (UWA) that will allow them to vastly increase the coverage and speed of their monitoring communications. Right now, they desperately need a new Motorola Aerial system, complete with 11 VHF Aerial Outstations, 11 Motorola DP4400 VHF Desk Top Units and 50 Motorola DP2400 VHF Portable Digital Radios.



Motorola DM4400 VHF Desk Top Unit



Motorola DP2400 Portable
Digial Radio




Typical Outstation Configuration
HOW YOU CAN HELP:

1. Donate Online! Click here to make a donation online! Make sure you type "Gorilla" in the comment box on the online form!

2. Donate by Phone! Call 310-271-6096 x25 to make your donation over the phone. Be sure to say you are donating to support the Mountain Gorillas!

3. Donate by Mail! Mail your contribution to Last Chance for Animals at 8033 Sunset Blvd #835, Los Angeles, CA 90046. Make sure you write "Gorilla" on your check!
4. Consider this a challenge! Pass the word on to your colleagues, friends and relatives. Let them know you are raising money to help conserve the Mountain Gorillas in Africa and ask if they can help!



YOU CAN MAKE A DIFFERENCE!
Please help us reach our goal of $26,000 by contributing today!



Your contribution will help save an entire species!
READ ABOUT LCA'S PRIOR GORILLA CAMPAIGNS
2012 Goal Reached - 22 Garmin Units and 271 Rain Suits
In 2012, with your help, LCA was able to provide 22 Garmin Map GPS units and 271 "Bang for your Buck" rain suits to the Ugandan Wildlife Authority. The GPS unit is manufactured by Garmin International, one of the world's leading manufacturers of cutting-edge navigation and communications devices.
Senior staff checking GPS units and ranger field force distributing units to




patrol outposts and gorilla monitoring points.

UWA team wearing the rain suits supplied through LCA donors.
2008 Goal Reached – 120 Garmin eTrex Legend!
In 2008, with your help, LCA was able to provide 120 very specialized Garmin GPS units, the eTrex Legend HCx (including accessories); 80 units to Rwanda and 40 units to Uganda. The unit is a particularly rugged version that is dependable for pinpointing locations.

2006 Goal Reached – 100 Motorola GP340 Radios




In 2006, with your help, LCA was able to provide 60 Motorola GP340 handheld radios to the UWA in Uganda and 40 to the Rwandan Wilflife Authority (RWA) in Rwanada – specialized equipment that allows them to monitor the gorillas to know where they are at all times. The radios allow for daily tracking to keep them safe and protect them from poachers and illegal activity.

The radios enabled the UWA and the RWA to cover a larger territory and extended communication to an area that had previously only received messages via foot. The UWA told LCA this "closure of the gap" added immensely to their conservation efforts of the mountain gorilla.
Africa participates in "Eco-Tourism;" tourism that provides revenue through gorilla trekking both in Uganda and Rwanda. Revenue earned through tourism benefits both the mountain gorilla and surrounding communities and helps the local people understand the value of the gorilla's continued survival. Gorilla treks are very restricted and help to fund future preservation efforts of the mountain gorillas and fund community project – schools, roads, clinic and community center.

To learn more about the African mountain gorillas and gorilla trekking in Uganda and Rwanda, please visit www.ugandawildlife.org and http://www.rwandatourism.com.