Reinstate California's Foie Gras Ban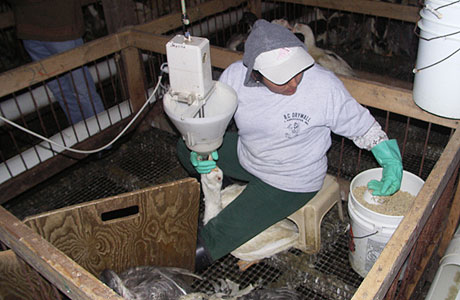 Force feeding through gavage
On January 7, 2014, U.S. District Judge Stephen V. Wilson ruled to overturn California's ban of foie gras sales. Wilson claimed that the ban was unconstitutional because it interferes with federal laws regulating poultry products.
This is a significant step backward in the fight against cruelty, and LCA will not rest until foie gras is outlawed once again in California – and then, the rest of the United States.
On July 1, 2012, California's Foie Gras ban went into effect. Section 25981 of the California law S.B. 1520, enacted in 2004 by then CA Governor Arnold Schwarzenegger, states, "A product may not be sold in California if it is the result of force feeding a bird for the purpose of enlarging the bird's liver beyond normal size." The ban gave producers eight years to come up with a more humane method of production, which they were not able to do.
Even while the ban was in effect, LCA discovered shipments of foie gras from retailers outside of California that are made through giant on-line retailer Amazon.com. We communicated with Amazon.com to stop shipments of foie gras, but they failed to comply.
Engorged duck liver through gavage
(force feeding) and a normal duck liver

Beautiful, healthy duck
WHAT YOU CAN DO:
#1. SIGN THE PETITION TO TELL CALIFORNIA LAWMAKERS THE BAN MUST BE REINSTATED.
#2. CONTACT RESTAURANTS AND STORES in your area and politely ask they stop serving and selling foie gras.
#3. POST RESTAURANT REVIEWS ON YELP letting people know if a restaurant is still serving and selling foie gras. File a report with LCA's SIU if the restaurant is in CA so we can investigate and potentially prosecute the restaurant.