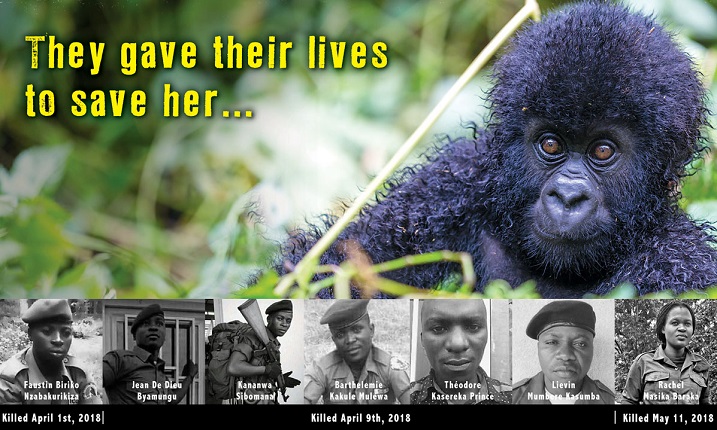 Eight Virunga Park Rangers Murdered
from April 1 - May 11, 2018
When Virunga Park Ranger, Rachel Masika Baraka, was killed on May 11th, 2018, she became the eighth casualty in 2018 in a war pitting brave rangers in the Democratic Republic of Congo's Virunga National Park against rebel militia groups. Seven rangers and one staff driver, Ila Muranda, died in three separate attacks over the course of six weeks. On March 7, 2019, Virunga Ranger Freddy Mahamba Muliro was killed during an attack on his post in the Park's troubled Central Sector. In total, 176 Rangers have tragically lost their lives while defending the park.
The Rangers are the only force protecting the park, the wildlife, and one-fourth of the earth's endangered mountain gorillas. Without the Rangers and Virunga's AirWing program (supported by LCA), the park and the animals would surely become the victims of poaching and habitat destruction.
LCA has taken the lead in providing critical support and equipment to Virunga since 2016, with the donation of a Cessna 206 aircraft to the AirWing fleet. The AirWing program provides the Rangers with an "eye in the sky" and is critical for emergency support and medical evacuation. In this important capacity, the aircraft and equipment donated by LCA to the AirWing program have saved countless lives.
Right now, with your help, LCA will continue to strengthen Virunga's AirWing. The Bat Hawk has increased visibility from the cockpit, has a low operating cost, is extremely stable and easy to fly and will allow night flying to combat rebel militia and poachers.
The lives of Virunga's rangers, and the wildlife and the mountain gorillas they protect, hang in the balance.
HELP SUPPORT VIRUNGA NATIONAL PARK'S RANGERS
AND AIRWING PROGRAM.