LCA Needs Your Help to Make West Hollywood Fur Free!
Please Join us at the City Council Vote on
Monday, September 19th at 6:30pm!
Please join Last Chance for Animals (LCA) on Monday evening, September 19th at 6:30pm for the WeHo City Council vote on the ban on apparel fur! Your presence is vital to this ordinance passing and moreover to demonstrate to the world there IS support for a ban on fur apparel that is the result of tremendous and unnecessary suffering.

Please be there early to fill out a voter support card and to get a good seat. We are hoping the vote will take place within the first hour but there is a chance it will be pushed back to the end of the meeting so be prepared to stay a couple of hours. Even if you can't stay through the vote your presence and voter support card will still make a difference!

Parking is free! Park in the new 5 story structure on the corner of San Vincente and Melrose next to the library. Have your parking ticket validated when you fill out your voter support card.

The opposition will be out in full force so without your presence this may not happen. The animals suffer day after day, hour after hour. Please give just a few more of your hours to free them from a lifetime of misery.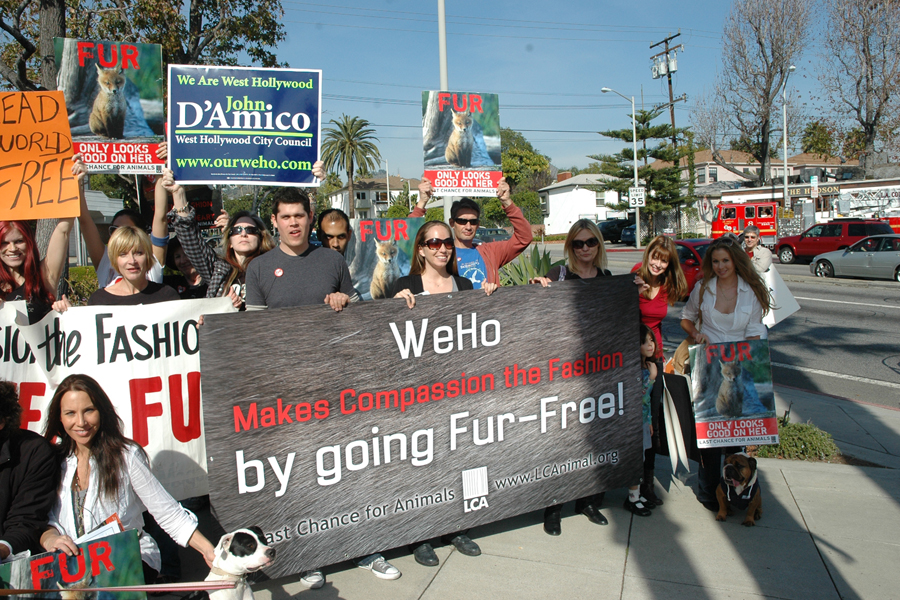 LCA protesting fur in WeHo
WHERE: West Hollywood Park Auditorium, 647 N San Vincente Blvd West Hollywood, CA 90069
Click here for map and directions

WHEN: Monday, September 19, 2011 6:30pm

PARKING: Corner of San Vincente and Melrose. The new 5 story structure next to the library.
Parking is free by validation available when you fill out your voter support card.
For More Information Click the Banner Below
For the Animals,
Campaigns Department
Last Chance for Animals
310-271-6096 x27
This email address is being protected from spambots. You need JavaScript enabled to view it.