Hawaii Puppy Mill Investigation
Watch LCA's undercover footage inside the puppy millIt began in June 2010, when Last Chance for Animals (LCA) received a tip from a former employee of the Waimanalo puppy mill, Bradley Hawaiian Puppies, that the dogs and puppies at the facility were being treated inhumanely, were not provided with proper veterinary care, and some animals were even dying. The informant believed the owners of the facility also owned a pet store nearby where many of the puppies were sold.

LCA's Special Investigations Unit (SIU) immediately sent an undercover investigator to Oahu with the goal of obtaining employment at the puppy mill. Within a couple of days, LCA's investigator was living on the property and working as a kennel attendant, documenting the cruel and dilapidated conditions there. The investigator gathered footage over the next 9 days. He was able to document sick and injured dogs, dogs living in filth and isolation, dogs given sloppy or no medical treatment, and rodent infestation on the premises. Mother dogs whelped their pups in conditions so unhealthy and unsanitary that some newborn puppies died. Hawaiian puppy mill dog in filthy cageRegarding the treatment of animals that die on the premises of Bradley Hawaiian Puppies, the investigator said, "I was told to wrap up the dead puppies and throw them in the trash bin for pickup." He also stated, "There were about 130 dogs, puppies and adults, all different types of breeds. It was almost impossible to breathe at times, the smell of feces and urine permeated the property. The sick and injured dogs, including a dog with a cancerous tumor, were caged indoors 24/7, with no special treatment given to them whatsoever." Documenting conditions for animals in places like this puppy mill in hi-definition is almost unheard of. It was LCA's goal to get that footage and share it with local media and the authorities to expose Bradley Hawaiian Puppies (also known as Bradley International), and bring awareness to the fact that even though Hawaii is a paradise to millions of people from around the world, it is certainly not for the dogs kept in captivity for commercial breeding.

Craigslist ad the LCA investigator replied to to get the job at the puppy millThe footage gathered by LCA was used by local media to expose Bradley Hawaiian Puppies. This exposure led to further investigations by Hawaiian Humane Society (HHS) into the mill. The SIU undercover documentation of the conditions at the mill was integral to the case against Bradley Hawaiian Puppies. After seeing the undercover photos and video shot by LCA's SIU investigator, Circuit Court Judge Glen Kim ruled there was ample, credible, and direct evidence the dogs were subjected to violations of the law and Bradley International Inc., the parent company of Bradley Hawaiian Puppies, could be criminally charged. The HHS was able to rescue over 150 dogs from the facility, nearly half of them needing emergency veterinary treatment, and place them into specialized foster care.

Bradley Hawaiian Puppies pled "no contest" to 153 counts of animal cruelty on Monday, December 12, 2011, two days after they filed articles of dissolution of the corporation in an obvious effort to avoid being held liable for the criminal charges. Unfortunately, Hawaiian corporate law also allows officers of the company to indemnify themselves and limit personal liability for any judgments made against the corporation when setting up the corporate structure. Bradley International Inc. was set up in such a way as to shield the members of the Luke family, the corporation's officers.

Vernon Luke, a wealthy local resident, and his son, Shannon Luke, were listed in corporate information as the Vice President/Treasurer and CEO/Director, respectively. Luke Sr. is characterized as a shifty and shrewd con-artist who convinces non-family members to front their own cash and act as managers of his puppy mill operations. The Bradley Hawaiian Puppies mill was operated by David Lee Becker, a non-family member who was also listed as a corporate officer of Bradley International Inc. During LCA's investigation and the subsequent media coverage of Bradley Hawaiian Puppies, Luke Sr. maintained that he had nothing to do with the way the dogs and puppies were being treated, and insisted all responsibility for their care and treatment was Becker's alone.
| | |
| --- | --- |
| | |
| Beagle with an advanced case of mange | Bichon with cancerous tumor |
The abandoned Waimanalo property owned by Sheryl-Luke Kalani where Bradley Hawaiian Puppies operated the puppy mill and where Luke-Kalani got puppies to sell at her pet shopHowever, the Waimanalo property where the mill was located was also owned by a Luke family member, Sheryl Luke-Kalani. Luke-Kalani formerly owned the Pet Stop in Pearl City, Oahu, where the puppies from the Bradley Hawaiian Puppies mill were sold. Once the story broke, Luke-Kalani closed up shop in Pearl City and moved to a new location in the Pearl Kai Shopping Center called the Aloha Pet Shop in Aiea, Hawaii.

Jason Burks, Bradley International Inc.'s attorney, appeared at the sentencing alone, stating he did not represent any member of the Luke family nor Becker and his sole client was the now dissolved and asset-less Bradley International Inc. No one from the Luke family was in attendance and Becker's whereabouts have been unknown since the case against Bradley International Inc. was filed.

Watch news tage of the rulingOn Wednesday, February 15, 2012, District Court Judge David Lo imposed the maximum financial penalties possible under Hawaiian law against Bradley International Inc., the corporate parent company of Bradley Hawaiian Puppies. The fines totaling a whopping $685,116.27 would seem to be a victory for the dogs and puppies mistreated by Bradley International Inc., but the corporation has dissolved and no assets are available to pay the fines. Unfortunately, under Hawaiian law, Judge Lo was only able to adjudicate against the corporation, therefore the individual people responsible for breaking the law and abusing the animals were able to walk away without having to face jail time and were not held accountable for their crimes. "We applaud Judge Lo for imposing the maximum financial fines allowed under Hawaiian law," said LCA President and Founder Chris DeRose, "however, we are appalled that the corporation's officers, the Luke family, escaped justice and continue to profit from the abuse of dogs and puppies, and as a result more dogs and puppies will suffer and die."

Media begins to gather outside the Kaneohe Courthouse awaiting the sentencing in the Bradley Hawaiian Puppies animal cruelty caseThe $685,116.27 amount represents a $2,000 fine per count of animal cruelty plus a court fee of $55.00 per count for each of the 153 charges of animal cruelty proven in the case. An additional $370,701.27 was awarded to HHS as restitution for the rescue, care, rehabilitation and eventual adopting out of all of the dogs and puppies rescued from the mill. Although this sentence represents the end of a 19 month-long ordeal for the 153 dogs and puppies abused by Bradley International Inc., the saga is not over.

HHS had hoped Judge Lo would issue an injunction against the members of the Luke family as corporate officers of Bradley International Inc., prohibiting them from having any contact with dogs, being in the business of dogs, and selling dogs and puppies. But Judge Lo reminded the crowded courtroom that he had no jurisdiction over the individual members of the Luke family.

Keoni Vaughn, director of operation at HHS said, "We're very disappointed. The Hawaiian Humane Society feels Vernon Luke escaped the whole situation. Obviously he's continuing and taunting the community by creating a whole new puppy mill on the Big Island."

Cameras were not allowed in the courtroom however, these blown-up photos of the dogs and bags of matted hair were used as evidence of the criminal neglect at Bradley Hawaiian PuppiesIn addition to the new pet store run by Luke-Kalani, the Luke family has leased a new farm in Mountain View, Hawaii where another dog breeding business owned by the Luke's and run by a man named Stephen Williamson has begun operating.

The Hawaiian humane community had been holding weekend demonstrations outside Luke-Kalani's new Aloha Pet shop in Aiea in an effort to raise awareness about puppy mills and Luke-Kalani's connection to Bradley Hawaiian Puppies. Alicia Maluafiti of Poi Dogs & Popoki, a Hawaiian pet activist group says, "We're going to follow them around the island and make sure they close up operations. We don't want to see any more puppy mills on the islands."

Regarding LCA's help fighting puppy mills in Hawaii, Keoni Vaughn said, "We're grateful for your (LCA's) help, because this is an island and everybody knows everybody, so to come in here, undercover, and get this great footage is huge and it will have an impact."

It is the hope of the HHS and the Hawaiian humane community that people like the Luke's will be prevented from abusing dogs and puppies in the future by passing legislation aimed at increasing supervision, enforcement capabilities, and penalties against breeders who treat their dogs and puppies inhumanely. Both the Hawaiian State Senate and the House of Representatives have dog breeder bills under consideration for the 2012 session.

"It isn't over," promises DeRose, "one way or another the Luke's, people like them, and puppy millers everywhere will be made to pay for their actions."
LCA's undercover investigator was told to throw
dead puppies like these in the trash bin for pick up
To learn more about puppy mills visit Ban Puppy Mills and remember to Adopt! – Don't Shop.

Learn more about Anti-Puppy Mill Legislation.

Watch more videos about the investigation:
PART 1
Puppy farm investigation
sparks animal debate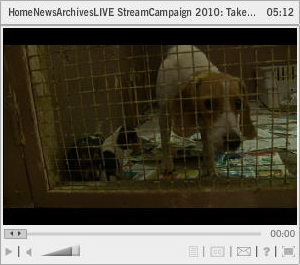 Click video for full story
PART 2
Weak Hawaii laws make it tougher
to regulate puppy breeders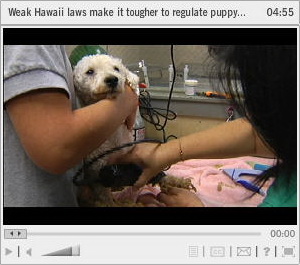 Click video for full story
PART 3
No puppy breeders in Hawaii are permitted
to sell to pet stores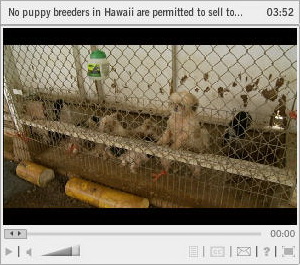 Click video for full story
PART 4
Dangers at Hawaii Pet Farms
Click video for full story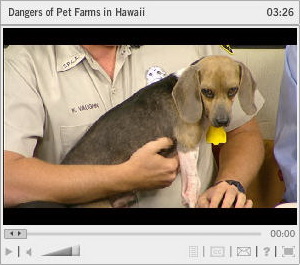 LCA's Investigation Continues to Expose Conditions
for Dogs and Puppy Mills in Hawaii

Learn more about: Anti-Puppy Mill Legislation