Philip Wollen
Philip WollenPhilip Wollen OAM is an Australian philanthropist. He is a former vice-president of Citibank and was also a general manager at Citicorp. Wollen became a vegetarian following his departure from Citibank and is a prominent member of the Animal Rights movement. He conducts intervention programs to rescue abused animals and funds outreach programs that promote animal welfare and abstinence. At age 34, Australian Business Magazine named him in the top 40 headhunted executives in Australia. In 2005 he received the Medal of the Order of Australia and in 2007 he won the Australian of the Year (Victoria) award.
Philip Wollen's main project, the Winsome Constance Kindness Trust, is a global initiative whose mission statement is "to promote kindness towards all other living beings and enshrine it as a recognisable trait in the Australian character and culture." The Trust emphasises ethics, compassion and co-operation, and opposes cruelty to humans and non-human animals. In 2006 the Trust had initiatives in 34 countries and growing.
Philip Wollen speaking in Adelaide, Australia against live animal export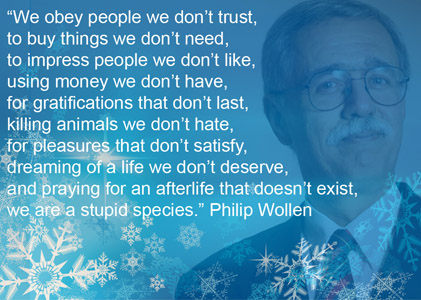 x
Yes! I want to help fight animal suffering!