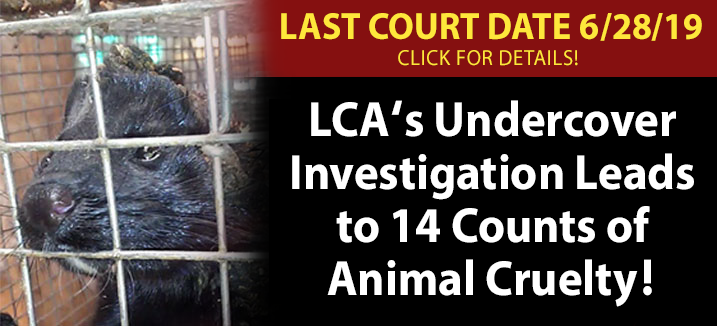 UPDATE: February 8, 2020 - The Millbank Fur Farm matter continues to progress through the justice system. Updates will be provided as soon as LCA can release information. If Millbank and the Crown are unable to reach an agreement, LCA expects this matter will proceed to trial during 2020.

June 28, 2019 - At the last court hearing date publicized, which was June 28, 2019, no please bargain was reached between Millbank Fur Farm and the Crown. The case continues to move forward on all charges laid.
November 21, 2018 – LCA representative for Millbank Fur Farm appeared at the Provincial Court House in Guelph, Ontario, Canada and requested an adjournment — which was granted and a judicial pre-trial was scheduled for April 12, 2019.
Warning: Video contains graphic footage.
May 11, 2018 – LCA released video and photo evidence from an undercover investigation, documenting disturbing accounts of animal neglect at Millbank Fur Farm Ltd. in Ontario, Canada. The investigation, which began in 2017 and spanned the course of a year, is the first in-depth undercover investigation on a fur farm in Canada. More than three million animals are killed annually for their fur in the Canadian fur industry.
With the evidence collected, LCA submitted a complaint to the Ontario Society for the Prevention of Cruelty to Animals (OSPCA) requesting further investigation. In a public statement released 5/11/18, the OSPCA announced an Ontario mink farm was charged with 14 counts of animal cruelty. In their statement about the charges, the OSPCA spokesperson said, "no one is exempt from the law."
Warning: Video contains graphic footage taken at Millbank Fur Farm.
The footage captured in LCA's investigation reveals numerous incidents of animal suffering and neglect among the 40,000 mink that live, and die, at Millbank Fur Farm annually.
In addition to clear incidents of animal suffering, the evidence collected in the investigation shows animals with open, untreated wounds and infections, and documents a lack of adequate and sanitary mink shelters, and spoiled food. During the course of the investigation, LCA's investigator never saw a veterinarian on site.
As is the case with many industries that exploit animals, there is little oversight and few laws that protect animals on fur farms.
'This is Not Normal': Ontario mink farm charged With animal cruelty after activists go undercover. (Julien Gignac, Toronto Star; 5/12/18)
Help Stop the Suffering of Fur-Bearing Animals:
WHAT YOU CAN DO:
Sign the petition below demanding the Canadian government to create universal standards for animals on fur farms.*
Educate others about the cruelty of the fur industry.
Donate to help keep LCA's investigators in the field exposing animal cruelty.

* LCA is an abolitionist organization and promotes measures to regulate or reform industries only when those changes will alleviate suffering and make progress towards eliminating animal exploitation.
| | | | |
| --- | --- | --- | --- |
| Minks in a cage | Staring through wire | A bin of carcasses | Bobbing in small cages |
| | | | |
| | | | |
| A look of despair | A pile of bodies | A painful lesion | Frozen, filthy trenches |
| | | | |
| | | | |
| An open wound | A warning at the gates | Mink Transport Tubes | Mink Asking for Help |
| | | | |
| | | | |
| Mink With Head Lesion | Pile of Mink Skins | Washing off Mink Skins | Severe Head Lesions |
| | | | |