National Puppy Mill Awareness Day (PMAD)
Started by Last Chance for Animals and other animal activists, PMAD takes place every September to spread awareness of the sad truth behind the puppy mill industry and encourage the public to adopt – not purchase –companion animals.
PMAD started in Lancaster, Pennsylvania in 2004, and now animal advocates across the United States join forces on this day by holding protests, organizing adoption events, and leading marches or walks. Anyone can hold a PMAD event in their hometown. For an extensive list of ways you can participate in your community, CLICK HERE.
About Puppy Mills
Puppy mills are commercial dog breeding facilities. Every year, more than 2 million puppies are bred in puppy mills and sold for profit, despite the overcrowding in animal shelters and severe overpopulation of dogs.
Dogs in puppy mills are kept in cramped, filthy conditions and may have inadequate food, water, and medical care. Many of the breeder females are bred to death. They give birth to litter after litter and eventually become so beaten down that they cannot conceive anymore. At this point, they are usually killed, since they are no longer able to make their owner money. Puppies are sold to pet stores as young as 8 weeks old, many times with false paperwork and diseases yet to be discovered. Illnesses are frequently overlooked, and animal health documents are easily modified.
Puppy Mill Awareness Day 2017 Lancaster, Pennsylvania
Puppy Mill Awareness Day is scheduled for Sunday, September 17, 2017, in Lancaster, PA. This event is a day of celebration for puppy mill survivors and all rescue animals. There will be special guest speakers, games, a rescue parade, and much more. Further details coming soon! CLICK HERE to view the Facebook event page.
Puppy Mill Awareness Day 2016 Lancaster, Pennsylvania

and Austin, Texas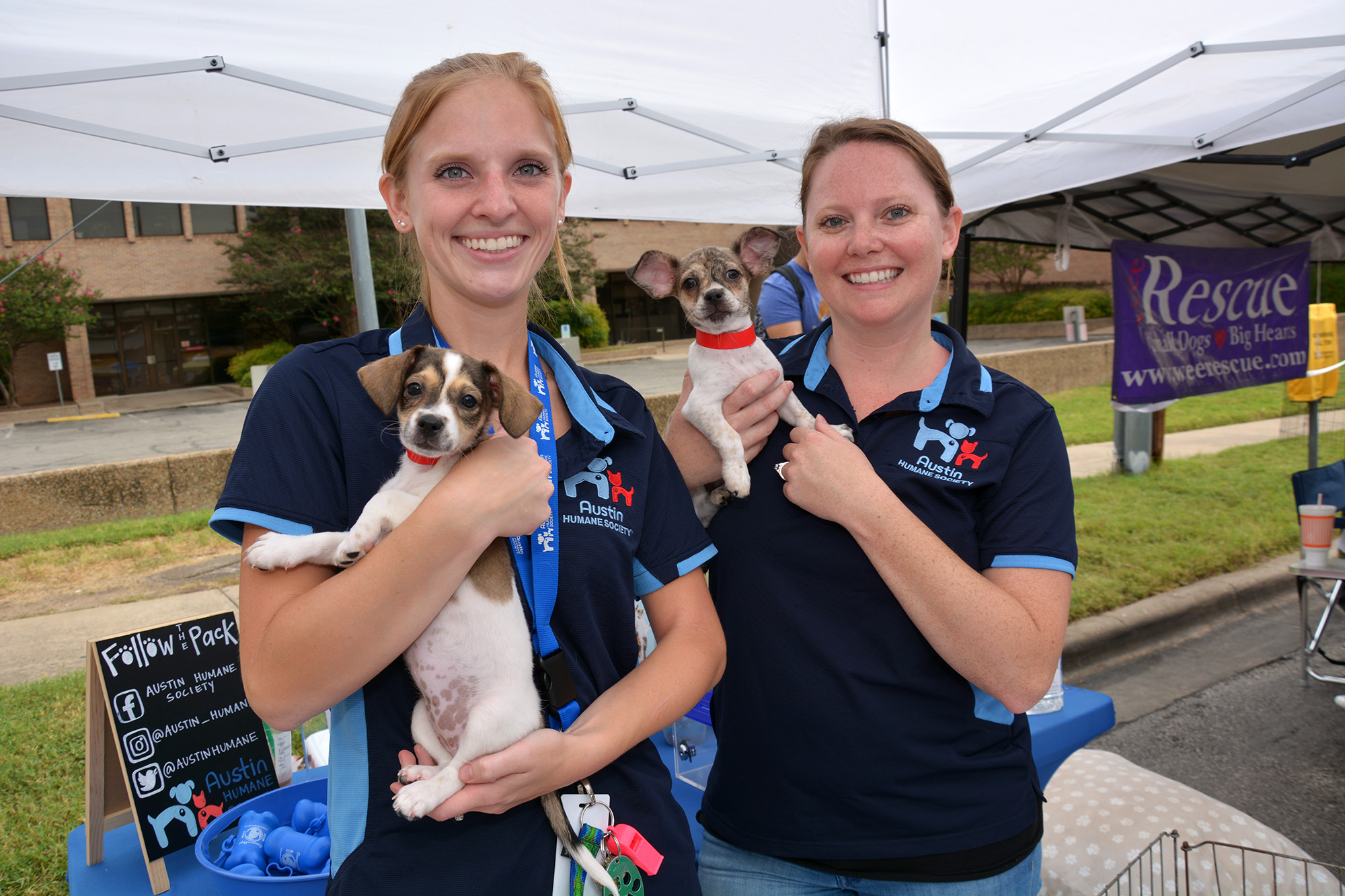 PMAD 2016 Lancaster, PA
On Sunday, September 18, 2016, National Puppy Mill Awareness Day was held in Lancaster, PA and Austin, TX.
In Lancaster, activities included a march for puppy mill survivors and friends; booths featuring animal shelters, breed rescue groups and other vendors; dog training sessions and an array of other activities. Celebrity dog trainer Victoria Stillwell was in attendance for a Q&A session with the public.
In Austin, a crowd of volunteers, rescue shelters and vendors convened at Scholtz Garten restaurant for live entertainment, raffles, and awards for animal rescuers. The PMAD VIP Reception raised nearly $16,000 to help educate the public on puppy mill cruelty.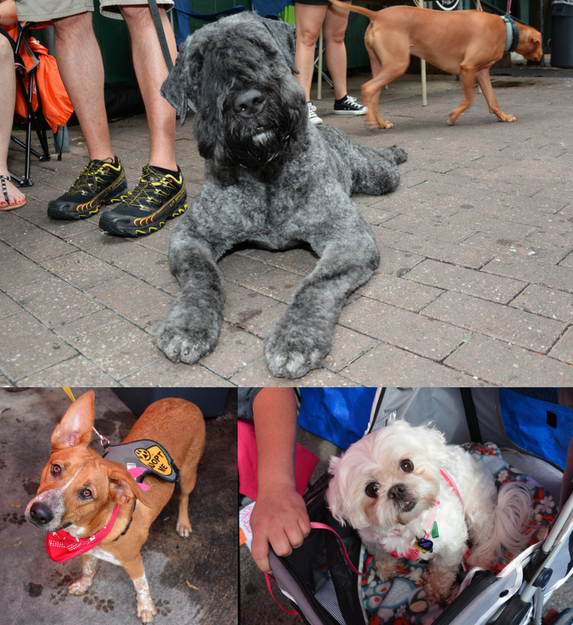 PMAD 2016 Lancaster, PA
Puppy Mill Awareness Day 2015 Austin, Texas
On September 27, 2015, hundreds of people and their rescued companion animals gathered in Austin, Texas for the 6th Annual Puppy Mill Awareness Day event. PMAD 2015, Austin, was a huge success, offering live music, animal-friendly vendors, multiple local animal rescues holding dog adoptions, an art auction, and a puppy mill awareness march. Many puppy mill survivors were present and participated with their rescue families in the march to raise awareness.

PMAD 2015 Austin, TX
Puppy Mill Awareness Day 2014 Chicago, Illinois
On Sunday, September 21, 2014, the Puppy Mill Awareness Day 'March on Michigan Avenue' took place again in Chicago, IL. Crowds of protesters met in front of the Tribune building, where the Chicago Tribune's Steve Dale, City Clerk Susan Mendoza, and Commissioner John Fritchey spoke to the group in support of banning puppy mills. Then the marchers walked north down Chicago's famed Magnificent Mile, waving signs and chanting "Hey, hey, ho, ho, puppy mill dogs have got to go!"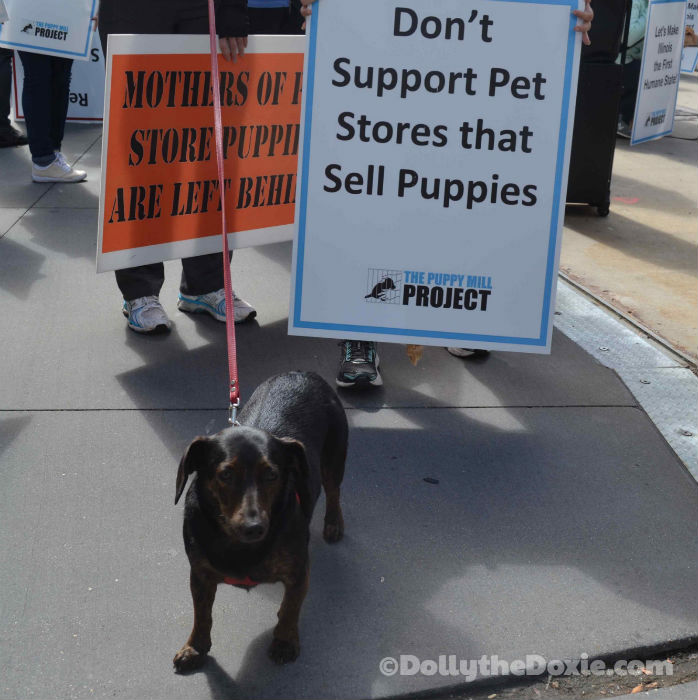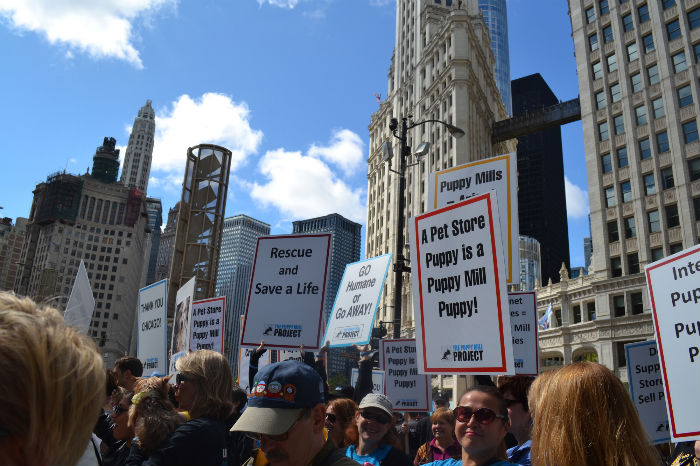 PMAD 2014 Chicago, IL
Puppy Mill Awareness Day 2013 Chicago, Illinois
On Sunday, September 22, 2013, more than 200 people and many dogs -- including puppy mill survivors -- gathered in front of the Chicago Tribune building in Chicago, IL, to protest puppy mill cruelty on Puppy Mill Awareness Day. The group marched down Michigan Avenue, known as the most popular shopping district in the Midwest, carrying signs and passing out leaflets to educate the public on the horrors of puppy mills.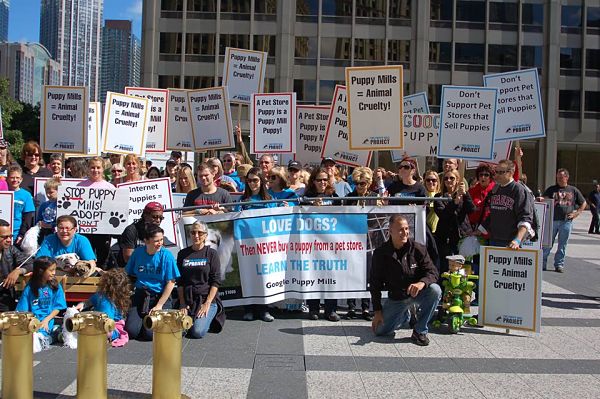 PMAD 2013 Chicago, IL
Puppy Mill Awareness Day 2012 Austin, Texas
On September 25th, 2012, hundreds of people showed up for Puppy Mill Awareness Day 2012 in Austin, TX to show their support to put an end to puppy mills, and to meet the courageous puppy mill survivors.
Poison drummer Rikki Rockett, actress and Texas native Shannon Elizabeth, "It's Me or the Dog" star Victoria Stilwell, and Animal Cops Houston's Randy Farmer joined LCA's Chris DeRose and Carol Araneo-Mayer, co-founder of rescue group Paws of Austin for the inspirational event.
Many thanks for photography by Amy Gross, Austin, TX
| | |
| --- | --- |
| Delilah Belle – Puppy Mill Survivor | Puppy Mill Survivors |
Puppy Mill Awareness Day 2011 Los Angeles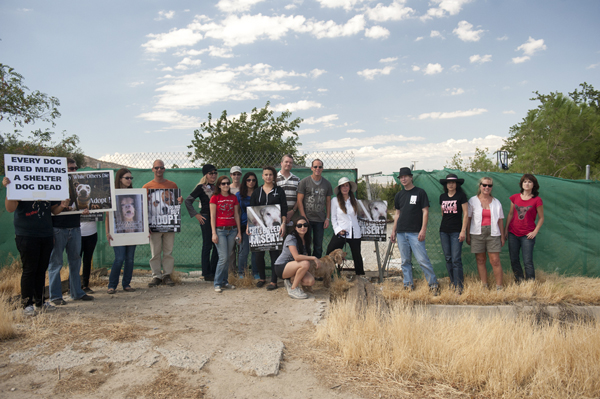 Puppy Mill Awareness Day protest in Little Rock, CA, 2011On Saturday, September 24th, 2011 LCA led a caravan of protestors to Littlerock, CA, about 60 miles north of Los Angeles, to protest the puppy mills which supply Los Angeles pet stores with puppies. This was the first time there has ever been a protest at the actual mills in California.

One mill was World Kennels. LCA's Special Investigations Unit discovered World Kennels in 2008 and found over 400 dogs at the facility. As a result of LCA's investigation over 300 dogs were removed. At this protest we let World Kennels know that we haven't forgotten about them and the other dogs languishing in the hot kennels and that we won't stop until all the dogs are released.

Several neighbors came out to talk to the protestors; they had no idea that this was going on in their own backyard. For too long the puppy millers have been able to hide in obscurity out in the Mojave Desert. On September 24th, we gave them notice that they can no longer do so. Whether it is in California, Pennsylvania, or anywhere in between, LCA will not stop until every cage is open.
To launch your own PMAD event in your area, contact us at This email address is being protected from spambots. You need JavaScript enabled to view it.
Adopt, Don't Shop

Learn more about: Adopt, Don't Shop