Donate Your Vehicle

TURNING CARS INTO CARE!
You can help animals and get a tax deduction when you donate your unwanted vehicle* to Last Chance for Animals' Autos for Animals donation program.
Donating is hassle free and easy!
Just click this button to go to the auto donation site or call
877 999 8322.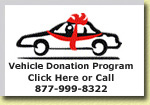 * Cars, vans, trucks, RV's, boats, motorcycles, personal watercraft, heavy equipment, snow mobiles, all-terrain vehicles, farm equipment, and classic cars are accepted.