In 1986, LCA held the first Fur-Free Friday protest in Los Angeles, CA on the Friday after Thanksgiving

—

widely known as Black Friday, the busiest shopping day of the year

—t

o raise awareness for the atrocities inflicted on millions of fur-bearing animals that are slaughtered each year for the sake of fashion. Protesters march down the world-famous Rodeo Drive in Beverly Hills, California,
and speak out against the furriers and luxury brands that sell fur. Since 2016, Certificates of Recognition have been presented to brands who have committed to going fur-free. The protest has
grown into a national tradition, with peaceful protests held on Black Friday in multiple cities across the United States each year.
Please Join LCA, Actress Donna D'Errico, + a coalition of other animal rights orgs for the 33rd Annual Fur-Free Friday Protest!
This year, Governor Newsom signed AB 44 into law, making California the first state in the nation to outlaw fur. The bill goes into effect on January 1, 2023. Let retailers know you won't support them until they commit to going fur-free NOW—and not just in California but worldwide!
Please RSVP: https://www.facebook.com/events/2085468298220769/
---

11/23/18
— LCA's 32nd Annual Fur-Free Friday demonstration drew a large crowd of anti-fur protesters and was once again led by animal rights activists/actresses Mena Suvari and Donna D'Errico, as well as former LCA undercover investigator Bryan Monell. This year, LCA awarded Burberry, Coach, Jimmy Choo, and Michael Kors Certificates of Recognition for committing to going fur-free.

11/24/17
— LCA's Fur-Free Friday protest garnered over 200 protesters and was led by "actorvists" Mena Suvari and Donna D'Errico, along with Bryan Monell, LCA's 2017 Activist of the Year Award recipient and former LCA undercover investigator who was instrumental in passing the historic West Hollywood fur ban, which went into effect on September 21, 2013. LCA awarded Gucci, Guess, Giorgio Armani, and Hugo Boss for their commitment to going fur-free.

11/25/16
— Bustling Black Friday shoppers and passers-by were educated about the cruel fur industry and urged not to buy fur products.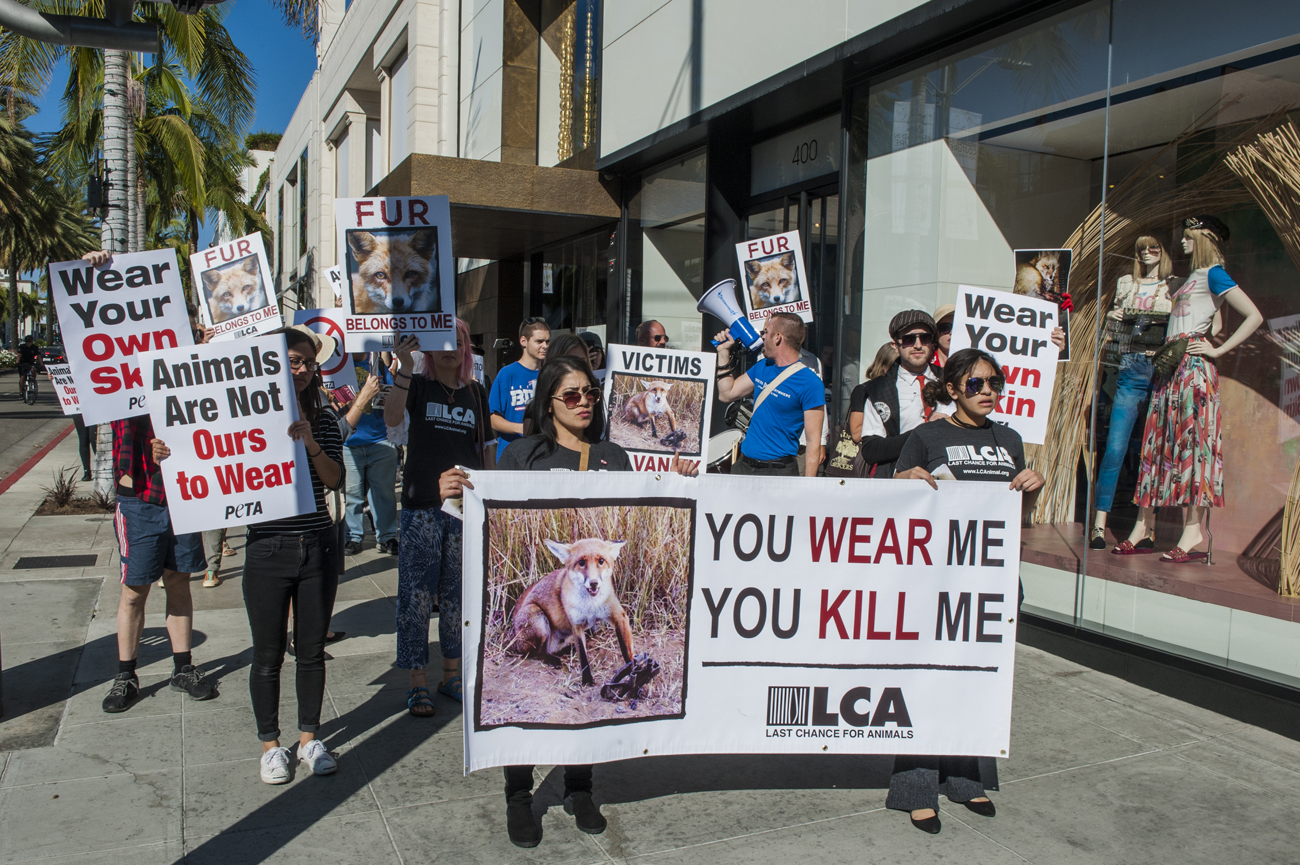 Want to host an anti-fur demonstration? Download and print the info below:
Priscilla Presley Speaks Out Against Fur

Learn more about: Fur Trade Facts