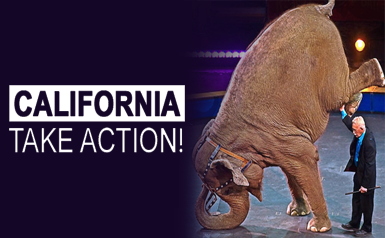 UPDATE: This action is now closed.
On Monday, August 19, 2019, SB 313—also known as the Circus Cruelty Prevention Act—is scheduled to be heard by the California Assembly Appropriations Committee!
Once the bill clears the Appropriations Committee, it must pass a final reading on the Assembly Floor before being sent to the desk of the governor to be signed into law. If passed, SB 313—which was introduced by Sen. Ben Hueso (D-San Diego)—will ban circus animal acts throughout California. Your help is urgently needed to ensure SB 313 passes through the Appropriations Committee!
Help end circus cruelty!
California Residents: Click here to locate your assemblymember. If he/she sits on the Assembly Appropriations Committee, please urge him/her to support SB 313! Please note: Only contact your assemblymember if he/she sits on the Appropriations Committee.

You may use the following text to draft your email:
As your constituent, I am writing to respectfully urge your support for SB 313, the Circus Cruelty Prevention Act. This legislation is crucial for promoting animal welfare in California. Wild and exotic animals used in circuses experience horrific abuse and mistreatment, including cruel training methods to force animals to perform tricks on command and constant confinement. California is a leader in safeguarding the rights and welfare of animals. I ask that you support SB 313 to ban the use of wild and exotic animals in circuses.
Click here to learn more about circus cruelty.
Photo: LCA